The State Theatre


The project's first step was to create a list of all the functionalities The State Theatre desired their new website to provide. The must-haves included the ability to easily list upcoming events, the ability to update on-site photo galleries and to upload streamable audio and video media. Another desired functionality was an onsite message board for registered users. Janmedia incorporated the client's wishlist in creating a site map and wireframes which outlined how the new website would function. Upon making adjustments based on client feedback and getting client approval the graphical design process was initiated by Janmedia's creative director.

Janmedia's project artist visited the venue to get a feel for its design nuances that could be conveyed to the online design. The custom graphical comps (design concepts) were developed by hand and subsequently presented to the client.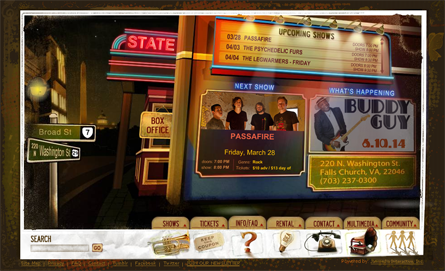 Once a design line was approved a Janmedia flash artist implemented the homepage animation effects while our programmers integrated a content management system which was custom programmed to provide the functionalities requested as part of the client's wish-list. Throughout the programming process the client was provided with access to an online project preview system where they could review project components and provide timely feedback to elements already implemented.
Ultimately, the project resulted in The State Theatre obtaining a modern and effective website providing them with a user friendly outlet for promoting event information online.
The "shows" section of the website lists upcoming events at the venue, while also allowing the site administrator to update show details, post media files, link to the artist's web page and allow the visitor to purchase tickets online. The "community" section of the site includes an ability to set up an online account and post information to the message board on the site's extranet. The site visitors can also sign up for a newsletter or visit The State Theatre's Facebook, Twitter and Tumblr pages.
www.thestatetheatre.com