Fairfax Partnership
Janmedia was approched by representatives of Fairfax County, Virginia with a request to design a cohesive brand mark and develop two youth information portals for The Fairfax Partnership for Youth. A general information portal was needed for the Partnership to promote its activities in the community, provide online resources and accept donations through an integrated ecommerce element. Secondly, a direct youth information portal was requested where teens could search for local after school and summer activities.
This was an exciting project as it required our creative staff to flex their design muscle to conjure up a modern and effective logo for the organization and an additional one for the youth information portal. The client was asked to describe their preliminary design preferences and subsequently Janmedia's art team put together several logo design lines, two of which ultimately resulted in logos for the partnership and their portal.
The website projects were divided into two phases, phase one included the development of the flagship Fairfax Partnership for Youth website, and phase two incorporated the design of the For Youth Information activities search portal. In phase one, Janmedia was provided with a comprehensive list of the programs and resources the Partnership wanted to talk about online and based on this our usability team architected wireframes that outlined how the website would navigate.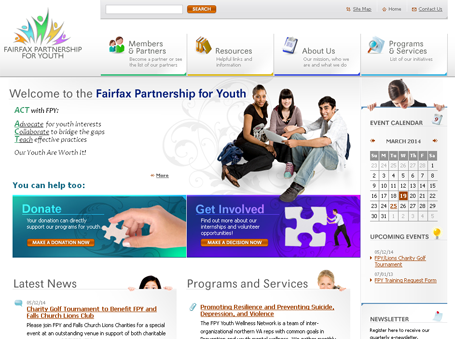 Upon completion of the wireframe concepts the creative team went to work and designed a graphical theme that worked well with the Partnership's new logo. Then, once the graphical line was approved our programming team took over, and implemented the site using HTML, Java and XML technology, integrating it with a Content Management System, which would allow the client's administrative staff to effortlessly update news, resources, online calendar and articles and review information regarding online donations received.

Phase two of the project required Janmedia's team to establish an online database of activities in Fairfax county, based on information received from the client. Then, a query engine was implemented allowing for a simple search of after-school and summer activities available to area teens. Featured providers were listed in a dedicated area and project partners received recognition as well.

Overall, the project was interesting, constructive and fun and resulted in two useful websites providing area youth with needed resources including bullying prevention, mental wellness and after-school activities.