The Washington Times

Janmedia partnered with The Washington Times to develop an e-edition as a complement their existing print edition. The e-edition required that the reader experience the same look and attributes of the printed edition, yet also allowed for several improved features and functionality. The result is a custom viewing interface leveraging Flash, Flex and JavaScript.
Janmedia worked with the Washington Times to identify how the daily paper traverses the process from concept to creation. This system was constructed to complement The Washington Time's existing workflow. The Washington Times constructs and prepares their newspaper to go to print utilizing PDF, so the system allows them to batch upload an entire edition with a click of a mouse. Since this is the native format they utilize to send the paper to print, they now seamlessly deliver the print and e-edition without having to duplicate their efforts or maintain redundant versions of the same content.
The system also offers The Washington Times full flexibility in marking up "Hotspots" anywhere on a given page, as well as to define the action that occurs when clicking that area of a page. They can create an internal link that goes to another page within the e-edition, an article link that will load the entire content of an article into Article View and external links that enable them to link to other websites of advertisers or relevant material.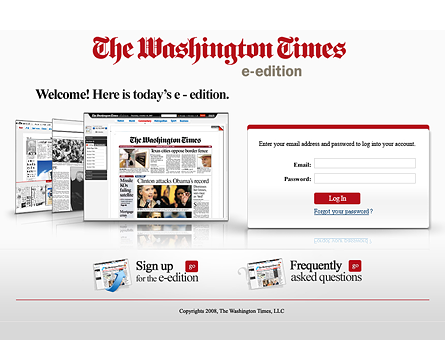 This initiative pushed the envelope of front end rendering for The Washington Times' readers. The interface boasts the following features:
Full zoom functionality, including click-wheel zooming
Search by page, edition, or all editions
Click and drag page flipping
Interface customization via color scheme picker
Fit to width/Fit to Height
Article headline picker enabling direct access to any article
Page View (like the print version) and Article View (the whole article)
Titles linking to Article View
Linking to pages where articles are continued
Tab navigation to arrive into a given section (Nation, Sports, etc)
The final product is a system that is quite easy to administer, while at the same time delivering a rich end user experience without sacrificing features or functionality. The separation of content and information from physical media is growing exponentially. The Washington Times' collaboration with Janmedia has positioned them to be and remain ahead of the curve in this arena for years to come.
eedition.washingtontimes.com