Primus Telecom
Primus Telecommunications, one of the North America's fastest growing businesses, is a global provider of digital telecommunication. Already possessing a strong infrastructure of core services, Primus teamed up with Janmedia seeking assistance in better publicizing its expansive breadth of both enterprise and residential product offerings in an ever competitive and rapidly growing market. This initiative was to be spearheaded via a strategic and graphical overhaul of the Primus corporate web system.
Working within an aggressive project timeline, Janmedia quickly arranged a team of Analysts, Usability Specialists and a Project Manager to develop a comprehensive restructuring of the portal's site navigation. The focus of the new schema would blend Primus marketing goals with a foundation of universally accepted usability principals.
The next step was to redesign the home and key subsequent pages in an effort to better communicate Primus' global reach and comprehensive availability of services. With equal gravity applied towards strategic usability and aesthetic elegance, Janmedia's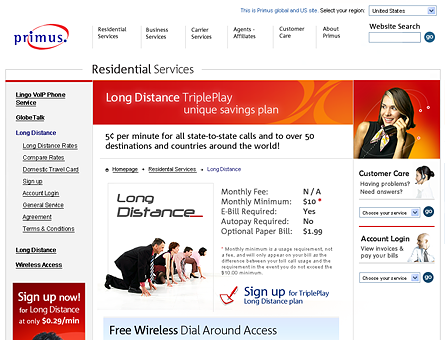 Product Designers were tasked with deriving a unique and effective yet classically minimalist user-interface.
Once a graphical concept had been forged, Janmedia's Programming staff promptly cut box CSS deliverables immediately ready for deployment into the Primus web system.
Janmedia's counsel paved the way for a much more intuitive and traversable web site, greatly improving upon the overall end-user experience. Not only were drastic leaps made with regards to the graphical interface, Janmedia's team of experts were able to successfully present equal weight to both Primus' residential and enterprise portfolios of products…championing a pivotal marketing goal of the client's. From the upfront analysis throughout graphical development and programming phases, Janmedia's performance spawned positive results.